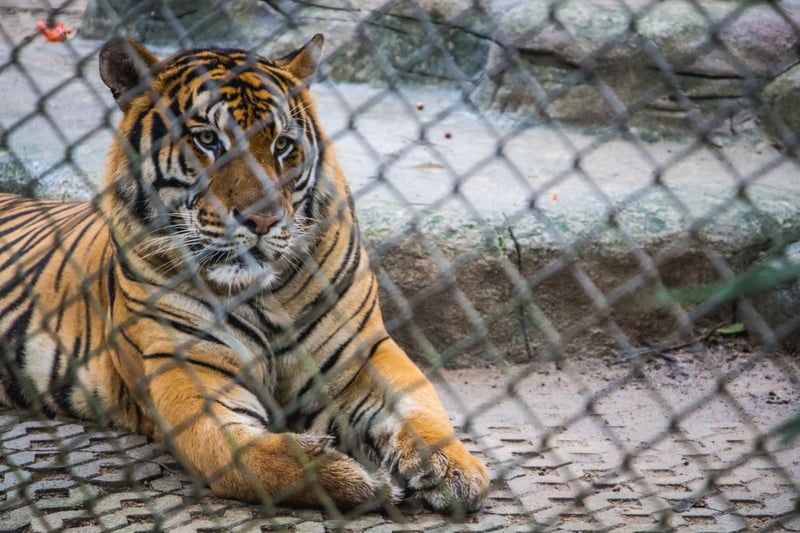 The pangs of the striped predator
Blog
On 20 March 2020, during the ongoing coronavirus pandemic, the world was taken by a storm with the introduction of the television series named, 'Tiger King,' on Netflix.
Tiger King on "Netflix"
Based on the life of Joe Schreibvogel, popularly known as Joe Exotic, who ran the Greater Wynnewood Zoo in Oklahoma, USA, the television series rattled the imagination of viewers with the crazy mix of ego, murder, mayhem, animal cruelty, mystery, and madness. According to a viewer survey conducted by Netflix, the series was viewed by 64 million households by the first month of its release.
What does the Tiger King Highlight?
 'The Tiger King' highlights an ongoing issue that has garnered added importance in the wake of the coronavirus crisis, ie., the issue of big cat ownership in captivity and the challenges posed to human health, safety and security. The series has met with mixed reviews, with some animal rights and animal welfare activists protesting the depiction of Joe Exotic in the film, especially compared to some of the major protagonists in the film.
The Tiger King follows the trail of several individuals who have been involved in the keeping and trading of exotic wild animals in the United States, thriving illicit commerce, that runs into billions of dollars. Estimates show that there are around 5000 tigers in captivity in the United States of America that is more than the number of tigers in the wild.
Let's see the numbers
A lot of estimates of USA's tiger numbers come from a 2005 study by Brian Werner of the Tiger Missing Link Foundation, which stated America had just under 5,000 tigers in zoos, sanctuaries, and individual ownership.
The Feline Conservation Federation conducted its first big cat census in 2011, and thereafter in 2016 completed a five-year follow-up. It was reported the total number of big cats in the US fell from 6,563 in 2011, to 5,144, a decrease of 22%. The census revealed that the total number of facilities holding big cats fell 24%, from 718 to 548.
The statistics are worrisome
These statistics are worrisome given that any presence of a big cat in private ownership represents continuing multiple dangers, scientifically and morally and these are dangers that must be addressed with alacrity.
My personal experience
In 2012, during a personal trip to Canada, I visited a roadside zoo in Canada in the province of Ontario named Elmvale Jungle Zoo. Seeing ten tigers, eight white and two normal, behind low fences supported by a wooden framework gave me a strange surreal sense. I could see firsthand, the physical dangers to visitors in Elmvale Jungle Zoo, should some of the tigers decide to exercise their jumping skills. Of course, as shown in the film, 'Tiger King,' the breeders, traders and owners of tigers do not necessarily restrict their dealings with tigers, but also extend their attention to other species of big cats like lions, leopards, jaguars and hybrid big cats like ligers(Cross between a male lion and a female tiger) and tigons(Cross between a male tiger and female lion).
The Tiger Next Door 
Of late, with growing consciousness there have been numerous reports about the private ownership of big cats all over the world, accompanied by audiovisual coverage in many television channels and films. 'The Tiger Next Door,' a film made by Camilla Calamandrei,  in 2009, explores the mindset of big cat breeders in North America, who are interested to create various morphological coloured versions of tigers, like white tigers, golden tabby tigers and white tigers without stripes.
The activities of private individuals dealing with big cats also lend us a glimpse into their world that is often full of promiscuity, drugs and violence and 'The Tiger King' deals with all these aspects in the life of former Greater Wynnewood Zoo owner, Joe Exotic.
Problems with captive tigers in Asia
Closer home, in Asia, there are problems with captive tigers in countries like Thailand, China, and Vietnam. Although there are tigers in captivity in Indian zoos, no close contact with visitors is allowed. In February 2017, World Animal Protection drew the attention of the authorities to a proposal to create a tiger petting zoo in Kolkata.
In the wake of the scandal and closure of Thailand's Tiger Temple in June 2016, World Animal Protection exposed the true scale of abuse that captive tigers were enduring at the hands of Thailand's tiger tourism industry. Launched ahead of the International Tiger Day on 29 July 2016, the report 'Tiger selfies exposed: a portrait of Thailand's tiger entertainment industry' highlights the hidden cruelty and suffering in tiger entertainment venues across Thailand.
Speed-breeding of Captive Tigers
The report revealed a rapidly expanding industry, with a third more captive tigers (33%) in Thailand in the past five years. The growing numbers of tigers indicate the 'speed-breeding' of captive tigers without any conservation benefits and mean more tigers are born into suffering. As of 2019, it is estimated there are approximately 1570 tigers in Thailand.
The main welfare concerns witnessed by the investigators at these tourist venues were:
Tiger cubs who are separated from their mothers, two to three weeks after they are born

Young cubs being presented to tourists constantly viewed and mishandled hundreds of times a day, which can lead to stress and injury

Tigers being punished using pain and fear in order to stop aggressive unwanted behaviour.

Most tigers were housed in small concrete cages or barren enclosures with limited access to freshwater.

One in ten of the tigers that were observed showed behavioral problems; such as repetitive pacing and biting their tails. These behaviors most commonly occur when animals feel they cannot cope with stressful environments or situations.
Sriracha Tiger Zoo in Pattaya
Of the 17 tiger entertainment venues investigated in Thailand, Sriracha Tiger Zoo in Pattaya had the highest number of tigers in captivity. It is also the venue where the poorest animal welfare conditions were observed – with at least one tiger so thin the hips and ribs were visible.
Put a ban on Captive Tiger Breeding
World Animal Protection continues to press for proposing an amendment to the existing law--Wild Animal Reservation and Protection Act, B.E. 2562--which would put a ban on captive tiger breeding. The current stage is that our organization has already submitted the draft amendment to the Thai parliament, then 10,000 supporter's signatures will be delivered to them on 29 July (World Tiger Day), 2020.
With more than one million Indian tourists visiting Thailand every year, and wildlife entertainment venues remaining a popular destination for them: the people of India are in a position to make a significant difference for tigers, by not supporting the cruel industry.
Sign Our Petition to Ban The Wildlife Trade :
World Animal Protection calls on the people of India to be responsible tourists, and not visit tiger entertainment venues or take tiger selfies. Whether travelling abroad or in India, World Animal Protection urges people to treat India's national animal with respect and compassion. Please sign our petition to ban the wildlife trade 
References :
1) The Tiger King : https://en.wikipedia.org/wiki/Tiger_King
2) Joe Exotic : https://en.wikipedia.org/wiki/Joe_Exotic
3) Does the US have a pet tiger problem? By James Jeffrey: https://www.bbc.com/news/world-us-canada-44444016
4)  Exposing the cruelty behind tiger selfies : https://www.worldanimalprotection.org.in/news/exposing-cruelty-behind-tiger-selfies
 5) World Animal Protection urges Indian tourists not to support cruel tiger tourism industry :
https://www.aninews.in/news/tech/space/world-animal-protection-urges-indian-tourists-not-to-support-cruel-tiger-tourism-industry/
6) National Tiger Conservation Authority and World Animal Protection object to minister's decision to tame wild animals at park :
https://www.anandabazar.com/state/ntca-and-wap-objects-ministers-decision-to-tame-wild-animals-in-park-1.571438#
World Animal Protection calls on the people of India to be responsible tourists, and not visit tiger entertainment venues or take tiger selfies. Whether travelling abroad or in India, World Animal Protection urges people to treat India's national animal with respect and compassion.