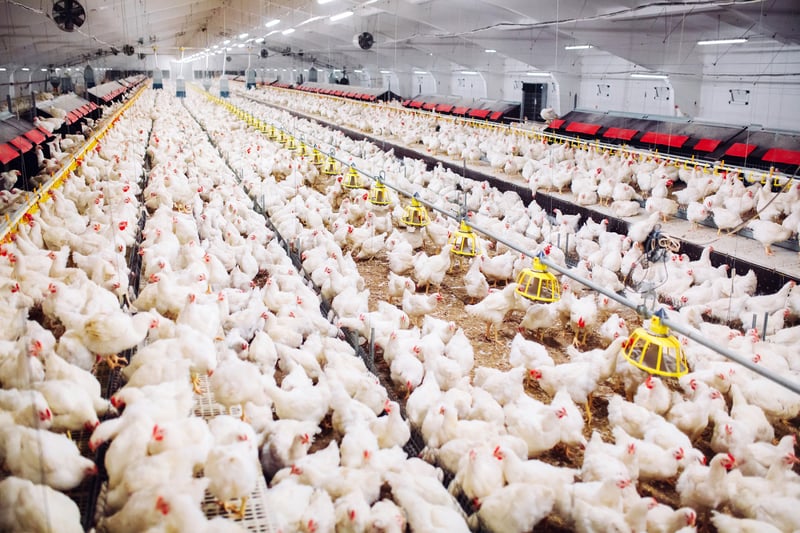 Preventing Antimicrobial Resistance Together: A perspective on Animal Farming
Blog
When microorganisms such as bacteria, fungi, parasites and viruses can increase despite exposure to drugs designed to kill them or slow down their growth, this phenomenon is known as antimicrobial resistance (such as antibiotics, antifungals, antimalarials, anthelmintics and antivirals)
What is Antimicrobial Resistance?
Antimicrobial Resistance or AMR or Superbugs, whatever name you give, remains a deadly silent pandemic that is no longer silent. But what is this Antimicrobial Resistance? Let's start from the absolute basics. The word antimicrobial means "against microbe or microbial life." When microorganisms such as bacteria, fungi, parasites and viruses can increase despite exposure to drugs designed to kill them or slow down their growth, this phenomenon is known as antimicrobial resistance (such as antibiotics, antifungals, antimalarials, anthelmintics and antivirals). In more straightforward language, AMR arises when an antibiotic loses its capacity to fight infection. This is a natural process as microbes develop resistance. However, the triggered or accelerated AMR is the thing to worry about, which is no more birth.
What's the impact of AMR?
Antimicrobial resistance (AMR) is listed by the World Health Organization (WHO) as one of the top 10 threats to global health and one of the urgent health challenges for the next decade. Recent studies estimate that 4.95 million deaths a year are associated with AMR, and 1.27 million are directly attributable to it.
Superbugs have developed resistance to one or more antibiotics, rendering those antibiotics less effective in treating infections. As a result, the medicines become ineffective, and conditions persist in the body, increasing the risk of spreading to others. Usually, the more frequently antibiotics are taken, the more bacteria adapt and discover new ways to survive, leading to increased antibiotic resistance. Instead of being killed by the antibiotics, some bacteria survive and continue to multiply, causing more harm.
Many diseases and surgical procedures are treated with antibiotics. Organ transplants, blood infections, difficult deliveries, pneumonia, and cancer treatment are a few examples. If antibiotics become ineffective at this rate, then one day, it will be challenging to treat such important diseases, and all the discoveries and research will be in vain.
Why is AMR growing?
The high use of antibiotics in humans (from pharmacies, hospitals), animals and the environment lead to selection pressure on the bacteria and selects for resistance.
Overuse and misuse of antimicrobial medicines are significant factors that have contributed to the development of drug-resistant microbes. In many places, antibiotics are overused and misused in people and animals and are often given without professional oversight. Examples of misuse include when people take them with viral infections like colds and flu and when they are presented as growth promoters in animals or used to prevent diseases in healthy animals.
Due to limited new antibiotics and existing ones becoming ineffective, it will be difficult to stop the spread of infections which will mean more excellent circulation of the infectious determinant through waste in the larger environment and greater spread of the disease—unless existing waste management systems are effective against them.
How animal farming, is causing a big chunk for AMR?
About 75% of total antibiotics globally are used in animal farming systems. India is the 4th largest sales of the use of antibiotics in animals. The poultry and cattle industry is one of the largest farming industries in India, where the cases of blatantly using antibiotics are also high.
Approximately 75% of the antimicrobials/antibiotics are not absorbed by animals and are excreted throughout the body from urine or faeces. As a result, it goes into the sewage system/waterbodies/soil and contaminates the environment.
Antimicrobials/antibiotics are also heavily used in the aquaculture industry. Since bacteria are more prevalent in freshwater aquaculture systems, they are likely to develop antimicrobial resistance in freshwater.
As mentioned in National Action Plan on AMR, India, the consumption of antimicrobials in the food animals sector in India is expected to double by 2030. Given that there are few regulations against the use of antibiotics for non-therapeutic purposes in India, the emergence of AMR from antibiotic overuse in the animal sector is likely to be an unmeasured burden in India and hence reducing antibiotic use in the farming industry is the key approach which can be well adopted by implementing High Welfare Farming Systems.
Solutions to combat AMR in Animal Farming
Therapeutic and non-therapeutic use of antimicrobial agents in the human, livestock, fisheries, and agriculture sectors profoundly affects the emergence of resistance in microorganisms and their spread through the food chain and the environment. Therefore, a possible solution to mitigate AMR in animal farming could be:
· Document the burden of AMR on livestock and food animals in India.
· Identify the hidden culprits for AMR, like the use of antibiotics in animal farming as growth promoters and bring policy changes to same.
Introduce and implement a ban on using antimicrobials in animal farming to promote growth to align with the WHO recommendations. These antimicrobials are critically important for human health.
· Conduct state-level training, provide incentives to farmers to avoid misuse of antimicrobials, and implement biosecurity measures for adopting high welfare production systems.
· Implement a ban on highly critical antimicrobials/antibiotics in animal farming.
· Introduce adequate legislation to regulate antimicrobials in animal feed products.
· Introduce Higher welfare production of farm animals is essential. Therefore, governments and companies should introduce compulsory minimum farmed animal welfare standards (FARMS).
· Support the transition towards humane and sustainable animal and plant agriculture to reduce the environmental impact of intensive farming practices relying on antimicrobial usage as growth promoters
World Animal Protection India believes antibiotics should be reserved to treat animals, not used to promote fast growth or as band-aids across the herd to prevent stressed animals from getting sick. A humane and sustainable food system would involve producing and consuming far fewer farm animals, with a small number raised in conditions where they can live good lives and a predominantly plant-based diet.
The right path to combat AMR: Preventing it together
It is assumed that AMR is some scientific problem, unaware of its multidisciplinary nature. Since AMR is not restricted to one sector but a critical global problem affecting humans, the environment, and animals and the key to combatting AMR is understanding its multistakeholder and multidimensional nature and working on the different aspects of the same. Each sector should play its role in preventing the AMR, making people aware of the issue and its impact of same. Along with this, the multistakeholder approach must turn into action and be sustained to achieve the win against AMR.
Working in silos for AMR will not bring the change to the table and will add more cases in future. We need to work on areas to have adequate information around the source of resistance and act to reduce their usage. The discovery of new antibiotics is not an easy journey to take and hence we should preserve what we have, else, we know the result – another pandemic! Hence, we are all part of the problem and we all can be part of the solution. Let's choose better!
"Coming together is a beginning; keeping together is progress; working together is success"
-Edward Everett Hale
References
· FAO Action plan on antimicrobial resistance 2016-2020, http://www.fao.org/3/a-i5996e.pdf
· Sobsey, M.D., L.A. Khatib, V.R. Hill, E. Alocilja, and S. Pillai. 2001. Pathogens in animal wastes and the impacts of waste management practices on their survival, transport and fate. White Paper Summaries. Available online http://www.cals.ncsu.edu/waste_mgt/natlcenter/whitepapersummaries/ pathogens.pdf (verified 16 Feb. 2009)
· Clancy, CJ, Buehrle, DJ, Nguyen, MH, PRO: The COVID-19 pandemic will result in increased antimicrobial resistance rates, JAC-Antimicrobial Resistance, Volume 2, Issue 3, September 2020, dlaa049, https://academic.oup.com/jacamr/article/2/3/dlaa049/5872561 · State Action Plan to Combat Antimicrobial Resistance in Delhi (SAP-CARD) :: Ministry of Health and Family Welfare (ncdc.gov.in)
· Stygar A.; Chantziaras I.; Toppari I.; Maes D.; Niemi J. High biosecurity and welfare standards in fattening pig farms are associated with reduced antimicrobial use. Animal. 2020 Apr;1-9. doi:10.1017/S1751731120000828
· World Animal Protection. Sharing success – the global business case for higher welfare for pigs raised for meat. 2019. Available from: https://www.worldanimalprotection.org/sites/default/files/media/int_fil…
· Wageningen University and Research. Economics of antibiotic usage on Dutch farms. Wageningen Economic Research. 2019. Available from: https://edepot.wur.nl/475403
· AVINED. Antibioticumgebruik Pluimveesector in 2019 en de Trends van Afgelopen Jaren.AVINED 2020. Available from: https://www.avined.nl/sites/avined/files/2020-091-e0023-jaarrapport.pdf
· World Health Organisation. WHO guidelines on use of medically important antimicrobials in food-producing animals. 2017. https://apps.World Health Organisation.int/iris/bitstream/handle/10665/258970/9789241550130-eng.pdf?sequence=1 · https://www.who.int/news-room/questions-and-answers/item/one-health · https://www.clearias.com/anti-microbial-resistance-redline-campaign/ · https://www.worldanimalprotection.org.in/blogs/antibiotic-pollution-rea… · https://www.ncbi.nlm.nih.gov/pmc/articles/PMC9047147/#:~:text=Among%20g… · WHO calls for sustained multisectoral action to prevent antimicrobial resistance (freepressjournal.in)
Working in silos for AMR will not bring the change to the table and will add more cases in future. We need to work on areas to have adequate information around the source of resistance and act to reduce their usage. The discovery of new antibiotics is not an easy journey to take and hence we should preserve what we have, else, we know the result – another pandemic!