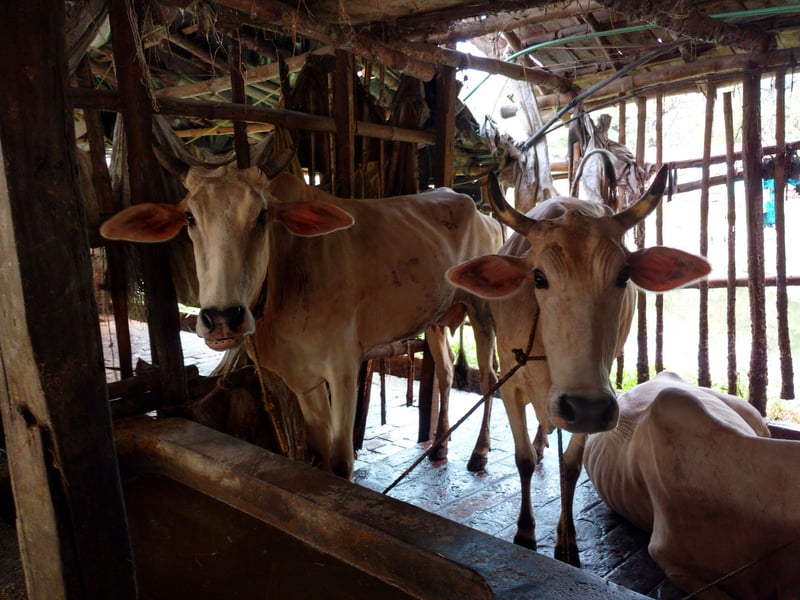 Good news for dairy animals in India
News
World Animal Protection has been engaging with the central government, various state governments and companies to ensure better welfare practices are being implemented across the dairy sector in India. The engagement has started showing results.
The state government of Karnataka recently issued a circular asking for all the dairies to be registered using the National Code of Practices for Management of Dairy Animals in India (National Dairy Code). The National Dairy Code has been jointly developed by National Dairy Research Institute and World Animal Protection.  Further, Karnataka Milk Federation, which is a state milk cooperative and amongst top 5 dairy companies in India has included National Dairy Code (NDC) in training to all veterinarians, extension service workers, animal management trainees, farmers and high level officers like Principal Secretaries of government departments through its Central Training Institute. 
Also, Kwality Dairy India, country's third largest dairy company has become the first to commit to ensuring the better welfare of the dairy animals in its entire supply chain.
The company:
1) Commits to investigating all sources of milk in their supply chain and not to knowingly source from urban and peri-urban dairies.
2) Pledges to implement World Animal Protection's 10 dairy welfare commitments with the aim of achieving full supply chain coverage within 5 years.
3) Commits to providing information on their website and in annual reports on the progress in implementing the commitments in accordance with World Animal Protection progress tiers.
As dairy animal welfare remains the ignored aspect of the cow protection movement in India, this is a historical development to re shape the future of dairy industry. Dairying is seen as a livelihood support activity for farmers but the animals producing milk or their welfare is never discussed. This development will change the way cows and buffaloes in the supply chain of the company are seen from mere cash cows to sentient beings with basic welfare needs. I am feeling very proud to be part of this fantastic team that made it happen.
The impact on dairy animals:
Implementation of National Dairy Code: Stray cattle is a big issue in cities. The cattle are forced to be on streets as it is not possible to provide shelter or access natural feed for them. As a result, they forage on garbage dumps, obstruct traffic, get injured, ingest harmful substances such as plastic and sharp objects. Implementation of rules will result in ensuring provision of basic needs like water, space, fresh air, safety etc. for dairy cattle in cities (with defined population number).  The owners will be bound to meet the criteria defined by this circular. This move will create better lives for millions of cows and buffaloes in the cities.
Adoption of NDC by Karnataka Milk Federation: Millions of animals in villages are denied basic freedom to move around, access to water, comfortable floor or shelter. Knowledge about good dairy management practices to veterinarians and extension service workers will help penetrate these practices to the village level. Involvement of federation staff will gradually re shape the attitudes and animal rearing practices.
Kwality Dairy India Limited's Commitment -
Collects milk from three states in India – Uttar Pradesh, Haryana & Rajasthan
Covers about 4000 villages,
Affects 0.28 Million farmer families with estimated 0.43 Million animals 
To know more about our work, click here.