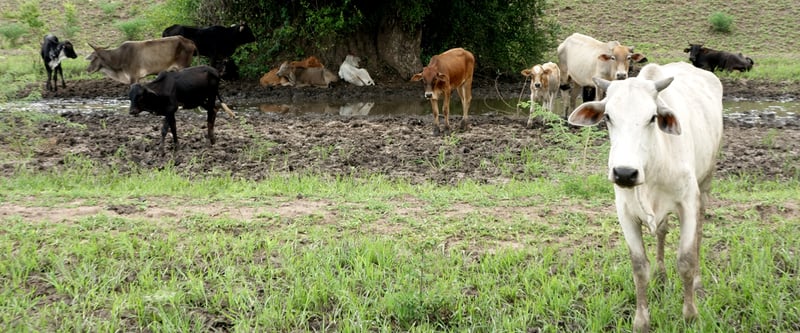 India's dairy industry takes positive action to protect dairy animals
News
World Animal Protection is moving India's dairy industry to implement the National Code of Practices for the Welfare of Dairy Animals - to improve the living conditions of dairy animals nationwide.
Our work promoting the dairy code of practices, attending key industry events and engaging directly with stakeholders and farmers, has now resulted in the director of the National Dairy Research Institute (NDRI), recommending the roll out the dairy codes to key decision makers across India.
The President of the Veterinary Council of India, the Commissioner of the Animal Husbandry Department, the Director General of the Indian Council for Agricultural Research, and all animal husbandry departments, are now considering implementing the codes.
This move to embrace the code of practices will improve the welfare of dairy animals, while also helping to increase productivity and profitability for dairy farmers.
This positive step follows our attendance at the 43rd Indian Dairy Conference in February, where we called on India's dairy industry to continue to make positive change to protect dairy animals.
Invited to speak by the Indian Dairy Association, we addressed a key audience of dairy farmers, milk producers and those involved in the dairy business, including DeLaval, Sudha and Amul, encouraging them to use the dairy codes of practice, and improve the living conditions of animals.
Many participants from the conference are now seeking our support to help them adopt and promote good welfare practices in line with the dairy codes.
Showcasing animas welfare to farmers at the National Dairy Mela
In February, we attended the National Dairy Mela, hosted by the National Dairy Research Institute (NDRI). Here we met with regional farmers to encourage good animal husbandry practices: showcasing the dairy code of practices, and hosting interactive sessions with farmers on all aspects of dairy farming, including the welfare and needs of dairy animals.
Gajender Sharma, Country Director for World Animal Protection India, says: "we are greatly encouraged by the director of the NDRI, personally recommending the implementation of the codes of practice to those in key influencing positions in India's dairy industry.
"This will give a huge boost to our work to encourage high welfare practices in the dairy industry. We hope to see more institutions, academics and farmers become involved in our work - to help protect millions of farm animals in India".
We are helping the dairy industry to help their animals. So more animals in India experience a better quality of life, which in turn can help them live longer and produce more milk. You can help us to achieve this by promoting animal friendly practices, and spreading the word about the importance of the India dairy code of practices.
To purchase a copy of National Code of Practices for the Welfare of Dairy Animals or for a soft copy , write to Khushboo Gupta